I often get asked by people how they can watch an Instagram Live. Or they get in touch because they've been invited to guest speak on a Live and they're not sure how to join and how to set themselves up for a stress-free experience! So here's my step by step guide to watching a Live and joining as a Guest.
Watching a Live on your Mobile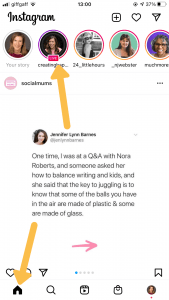 Go into your Instagram account and tap the little house icon bottom left.

You'll then see circles (the Stories profile pictures) at the top of your Screen. If an account you follow is Live it will appear as one of the first circles with LIVE at the bottom. If it's a joint Live (i.e. with more than one account appearing) the profile pictures of both accounts will appear together, again with LIVE at the bottom of them.

Tap the profile picture to watch the Live.

When you join to watch the Live your profile picture will appear and it will say you've joined (in the bottom half of the screen), but nobody can see you or hear you. If you want to leave tap the X (top right) – don't worry it won't be announced that you've left.
Once you're watching a Live here's what you can do…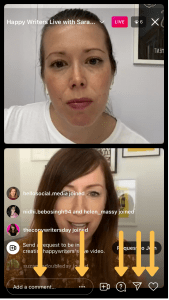 You can just watch and listen. Nobody can see or hear you. And don't forget if you need to leave just tap the X top right – nobody will be alerted that you've left.

You can tap the love heart bottom right – this is encouraging for the speaker(s)!

You can tap the paper aeroplane next to the heart. You can then send the Live to an individual or a group chat via Direct Messages. Those people will see a screenshot and can press it to join the Live. So this is a great feature to alert someone who'd be interested to see the Live.

To ask a question, tap the speech bubble that contains a "?" symbol. You can then type a question for the speaker(s). The host will see a "?" symbol at the bottom of their screen with a little red notification by it. The host then clicks the "?" symbol to see the question and who it's from. They can then decide whether to answer it.

You can type in a Comment, or a question in the Comment box. It's nice to Comment, it encourages the speaker(s) even if you just type "hello" or a friendly emoji!

You can scroll up and down the Comments to read them.

You can tap the three dots inside the Comment box – this gives you the option to copy the link or to send a link to the Live directly to someone outside Instagram – you're given various options to send the link via text message, email, whatsapp etc. This is useful if you think someone would be interested in watching the Live.

At the top you'll see the title of the Live. If you tap the little white downward arrow to the right it'll show you the accounts who are Live and you can give them a follow direct from there.
Watching a Live on your Laptop
I often watch Lives on a laptop because I find it easier to read and type Comments and the speakers are clearer to see without comments over the face at the bottom (which you get when you watch on a mobile). However, remember that currently you can only watch a Live on a Laptop – you can't yet host or join one as a guest. There are rumours this will change, fingers crossed!
Go to Instagram.com and log into your Instagram account.

Click the house at the top of your profile.

Just like on a mobile, you'll see the Stories profile pictures at the top and if an account has gone Live it will say Live across the bottom of their profile picture.

Click on their profile picture to watch.

You can make Comments and read Comments on the right hand side.

You can send a link to the Live to an account you know via the paper aeroplane. They'll receive a screenshot. If they click on it they can watch the Live on a laptop or on their mobile phone.
How to join a Live (and appear on the screen)!
First thing to say is you can currently ONLY join a Live from your mobile phone or an iPad.

If you join a Live anyone can watch it and some of your Followers will be notified. When the Live video ends, the host can share it on their Instagram feed, and they can save it to their archive for up to 30 days.

The host will always appear at the top of the screen and the guests will appear below. The host can have up to 3 guests. With 2 guests they appear side by side below the host. With 3 guests, the host and guests appear one in each quarter of the screen.

There are 4 ways to join a Live! The host can invite you in or there are 3 ways to Request to Join (don't worry if you don't seem to have all 3 options explained below – it's always worth updating your app if you don't) It's a good idea to agree with the host beforehand whether they'll invite you in or you'll Request to Join.

If the host invites you, you'll receive an alert. Tap the big blue button to accept their invitation and appear Live with them.

To Request to Join you have 3 options (NB some accounts don't have all 3 options, so don't worry if you don't have all of these, you only need one!):

Tap the Request to Join black button which will appear by the joiners and comments.

Or tap the camera icon at the bottom of the screen and you will then have an option to Request to Join.

Or tap the little white downward arrow at the top of the screen and you will have an option to Request to Join.
Tips for appearing on a Live
Make sure you're somewhere with good wifi and without background noise.

Make sure your mobile is charged up.

Ideally have your mobile at eye level (you'll look best this way) and either on a tripod or propped against something solid so that the screen is still.

Your phone needs to be in portrait orientation (vertical).

Try to make sure you're in natural daylight or have a good ring-light so that your face is nicely lit.

Turn off notifications so you aren't disturbed by a call during your appearance.

Turn up the sound and if you like, use headphones and a microphone, but you don't need to.

Be ready to introduce yourself in 1 or 2 short sentences.

Similarly it's a good idea to think through how you'll end e.g. a quick summary of your points or a call to action e.g. "do take a look at my website" or "feel free to DM me if you have any other questions".

Before appearing write down the points you want to make on a post-it note and have that with you – preferably at eye level so you don't have to look away. But it's OK to glance at notes, so don't worry if you do!

Sit or stand comfortably and make sure you're happy with your background. It's best if you appear as head and shoulders unless you're demonstrating something.

Don't worry about how you look or sound (as long as people can hear you!). I don't think I've ever watched a Live when someone didn't slip on their words, say "uhm" "err" quite a lot, sneeze, brush away their hair, lose their train of thought etc. It really doesn't matter, you're not there to give a professional performance, just be you.
If you get the chance to watch a Live or join one, do grab it! They're a great way of really connecting with your audience, demonstrating your expertise and showing your authentic self!
Thank you to Steph @creatinghappywriters and Sarah @thecopywritersday who agreed to me sharing screenshots from their brilliant joint Instagram Live 15th July 2021. 
---
Category: Uncategorised